The album fans have been waiting for ever since the special KANAight collaborative event was held in 2014 finally arrives!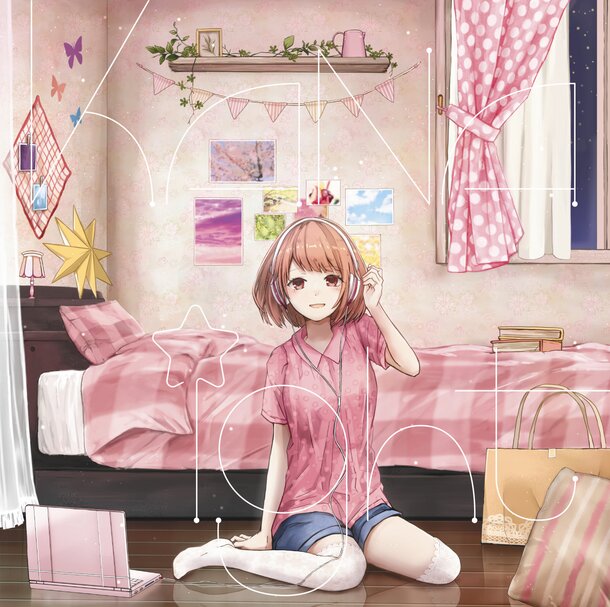 The new CD is a collaborative project between Kana Hanazawa, who has performed in over 150 different anime and game projects and provided vocals on over 140 character songs, and anime-loving music producer Mito from Clammbon. The KANAight collaborative event was held in celebration of the release of Kana Hanazawa's sixth single, "Hohoemi Mode," and saw Mito team up with Kensuke Ushio to form the DJ unit 2 ANIMEny DJs who set the crowd on fire with Hanazawa's solo character songs. This luxury two-disc collection was born from this very event.
On disc 1, Mito has picked the edgiest remixers in Japan today for the seven multitrack remixes included on this disc. As for disc 2, it's a nonstop mix which places the tracks 2 ANIMEny DJs played at the KANAight event at its center hand-picked by the guys themselves and includes around 40 tracks from anime and beyond.
Kana Hanazawa is a popular artist who has produced countless hits working with some of the best songwriters of the day and is well known for her unique voice and the emotional power of her singing thanks to her voice acting background. While this latest CD is a new approach as it takes the form of a remix album, that just means you have another opportunity to confirm just how wonderful Hanazawa's voice is, whatever kind of sound accompanies it.
Released Date: 2016.08.31
Tracklist:
Disc 1:
1. 恋愛サーキュレーション -Yunomi "Kawaii EDM" Remix- / 花澤香菜
2. リカバーデコレーション -Hymn to the Queen Remix- / 花澤香菜
3. Delicateにラブ・ミー・プリーズ -More Delicate Remix- / 花澤香菜
4. モノクロ☆HAPPY DAY -Small Chic Dance Remix- / 花澤香菜
5. おしえてナウカ、夢みるペチカ -cozy analog Remix- / 花澤香菜
6. もうそう□えくすぷれす -folclore Remix- / 花澤香菜
7. sweets parade -lyrical Remix- / 花澤香菜Disc 2:
1. 恋するマドモアゼル / 花澤香菜
2. I wonder why… / 花澤香菜
3. シナプスの鏡 / 花澤香菜
4. みどりのメロディ / 花澤香菜
5. Raison d'etre / 花澤香菜
6. Delicateにラブ・ミー・プリーズ / 花澤香菜
7. ソレイユ・ブーケ / 花澤香菜
8. モノクロ☆HAPPY DAY / 花澤香菜
9. キミをマモリタイ / 花澤香菜
10. ヘンな神様知ってるよ / 花澤香菜
11. Qunka! / 花澤香菜
12. HEAVEN's TALE / 花澤香菜
13. バンブー・ランデヴー□ / 花澤香菜
14. 迷惑スペクタクル / 花澤香菜
15. まじかる☆まーじゃん☆わーるど (ver.玄) / 花澤香菜
16. Punctuation! / 花澤香菜
17. 自主恋Shoooooter! / 花澤香菜
18. 君色*コンプリート / 花澤香菜
19. ゆけゆけゲルニカちゃん! / 花澤香菜
20. Dazzling Smile / 花澤香菜
21. ハッピーガール☆ラッキーガール! / 花澤香菜
22. ダンジョン ショコラティエース / 花澤香菜
23. おにくじゃぽねすく! / 花澤香菜
24. プリコグ (M@STER VERSION) / 花澤香菜
25. みのりのぞっこん未来予報□ / 花澤香菜
26. 君らしくなきゃヤダよ! / 花澤香菜
27. 私がモテないのは可愛くないからだよね? / 花澤香菜
28. 心の窓辺にて / 花澤香菜
29. もうそう□えくすぷれす / 花澤香菜
30. sweets parade / 花澤香菜
31. リカバーデコレーション / 花澤香菜
32. スプーンひとさじの愛 / 花澤香菜
33. 恋愛サーキュレーション / 花澤香菜
34. あした来る日~桜咲くころ / 花澤香菜